3 Stars
The priest to be is a drug addict. Sigh. We get a rundown on various possessions. Aasif Mandvi who plays Ben Shakir was Dr Kenchy Duwalia on 'Jericho'. Leland has a psychotic nature and this is not approaching a defining moment.

Has a broadway producer (John Glover) been possessed? Has a demon entrapped a powerful man and is it controlling him? Is Leland Townsend a demon? Kristen bores. Boris McGiver of 'House Of Cards' plays a priest. This was so horrid. There is a demonic digital assistant.

Leland has a continuing villainy. Leland is an ass hamster. The demonic digital assistant is tossed after it starts talking. There is more talk of deep fakes. What baby was the demonic digital assistant going on about? There is death. Why can't Leland's voice be recorded? Leland yells.

Best Lines:
"What you see in most movies."

"Diabolical oppression."

"Diabolical infestation."

"That's a real thing? Pledging their soul."

"Diabolical obsession."

"Fired 67 assistants in the last 6 months."

"He's sweating blood."

"HOLY GOD!"

"Temper fit."

"Hell is only half full."

Rose390
There is evil VR and an evil kid. Ben blames the evil kid's actions on copper. Psycho kid tries to kill his baby sister in the unfenced family pool and nobody notices. The evil kid then vanishes and it is hinted the parents killed him. This was not good.

Best Lines:
"How long it would take us to feel the liquid bleach in the milk."

"Play the bunny game."

"We can only play rabbits."

October 31
It's Halloween and a Ghost Hunting show looks into haunted New Jersey strip clubs. Ben tags along. Leland lurks. A creepy kid shows up on Halloween and the granny is targeted by Leland. An woman undergoes an exorcism, but is she really mentally ill? Ben exposes the Ghost Hunting show as fake and the creepy kid takes the daughters to a graveyard to play funeral. This was iffy.

Best Lines:
"I don't run from nothing."

"Got in a tweet fight."

"Preying on your compassion."

~
Given To Acts Of Violence
This was greviously bland and features actors who peaked a quarter century ago. There is a flatpack narrative. This was not played with conviction. This was full of bum notes. There was no unpredictable reality and this was not potent dizzying drama. Nothing here is easy to watch. It's all about the industrial nature of justice or something.

This was heavy art and there is no solace in this faltering ep. Dempsey is a litterbug. There is anticipated horror and this was not effervescent with delight. There is no moralisation. Was this deliberately boring obviousness? This was absolutely catastrophic. This was not a searing experience.

Didn't Dempsey murder 5 people in 1x01 alone? This was bog standard. One is repelled. This was profoundly depressing unalloyed awfulness. This does not confer grace upon those who participate. Makepeace wears a bowtie and a hideous jumper and has helmet hair. There is skydiving and dark characters.

Best Line:
"I hate the Scots."

Hors de Combat
There's a prison break via crane, that ends unexpectedly. There is flagrant mandess and Makepeace feels morally, cultrally and spiritually superior to Dempsey. The boss, Spikings, is a panto character. Cops wave guns ignoring that they are in the UK not the USA. Gang members plot and this was soul destroying and basic.

One is left baffled. Makepeace is coy and lowly. Dempsey gets a girlfriend who isn't Makepeace. Curse the new woman's sudden and inevitable betrayal. This show depicts a deranged society. Dempsey is brashly overconfident and beyond useless. The baddies are ignorant bellowing loudmouths. There are grievances and a sniper and Dempsey is a brash interloper.

This was profoundly dispiriting and it is difficult to find likeable characters. There is petulant entitlement, opprobrium, fostered jealousies and there are depressingly low expectations about what can be achieved. There are idiots friends, innately unheroic types, a bitter blame game, worst aid, a maeslstrom of revenge and righteously angry irritated types. This was farcical and infuriating. Makepeace is a moron who needs an eye test. Christopher Ellison (!!!!!!) plays a gangster who can't keep his clothes on. This show is a terrible combination of crap.

~
Pilot
This is a flop Katherine Heigl show that co stars Alfre Woodward, David Harbour, James Remar, Nestor Carbonell, Courtney B Vance, Melinda McGraw, Cress Williams, Adam Arkin, Rex Linn and Matthew Lillard. Sadly most of that cast list are not in this lously pilot. Charleston (Heigl) is a reckless CIA analyst who lost her boyfriend in a terrorist attack. The boyfriend's mother is Constance Payton (Woodward) who is the POTUS.

Charleston wants to get the evil nemsis who killed her man candy. Charleston is caked in makeup and she wears hooker heels to work at 2am. Depressingly low expectations were met. A doctor is in peril and Dennis Boutsikaris shows up. There is exposition, babble and disreputable people in this dull ep that is not intriguing. People yell down phones and consequences are coming.

A violent nutter bothers people for no clear reason. There is acrimony and few social graces. This was an awful thing. Charleston plans to kill all baddies – fascist. Some rough arsed guy breaks into Charleston's house and exposition reveals how she is covering up her own role in the son's death. No nuance emerges.

People are unreflective and this was abysmal. One can see why this wasn't enduringly popular. Her own choices have made Charleston miserable.

Best Lines:
"Reckless personal behaviour."

"Lot wrong with that."

"I can't be here right now."

"Teenage girls send texts."

"You're insane."
"Just a little."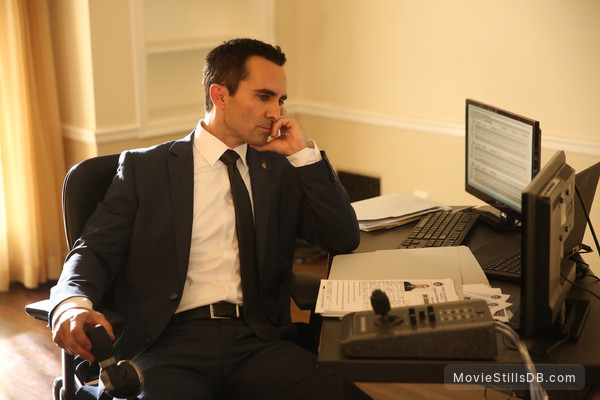 ~
If You Believe In Me, I'll Believe In You
Tommy bores. Alice plots. Mary whines. Kate hooks up with an old friend. Luke is a jerk. Jacob bores. This was extreme incompetence. There is betrayal.