'Angelyne' trailer
A bio of the billboard bombshell. Before reality tv, she made herself famous and drove a pink car. I'd try this.

Best Lines:
"What exactly are you famous for?"

"Why billboards?"

"You have to tease."

'Gangs Of London' promo
"I'm not interested in peace."

'Stumptown' promo
Hee.

Best Lines:
"2 more in the trunk."

'Sabotage' promo
No.

'Harley Quinn' promo
"I thought that was going to be way cooler."

Gluten free sourdough – yum.

I'd try chocolate babka and custard cherry tart.

I read a 'Star Trek' and 'Dollhouse' crossover fanfic 'In Truth' in which Kirk learns a shocking secret about McCoy. It was dark and very good.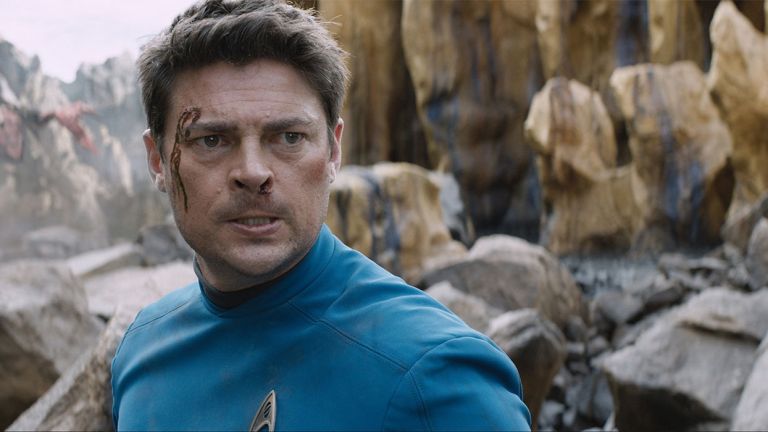 I want a Soane Britian Venus chair and Rebecca Udall napkins and a silken favours cushion. I also want Aerin Vesting serving dishes and a Fendi Fan I bag. I want a Louis Vuitton Paraiba tourmaline diamond and white-gold collection conquetes necklace. I want a Harry Winston ruby, diamond, platinum and yellow-gold cluster necklace. I also van a Van Cleef & Arepels diamond and white-gold necklace and a Chanel fine jewellery sapphire, diamond and platinum Chanel no 18 ring. I also want a Graff yellow and white diamond braclet. I want a pink plate and a cactus tumbler.

It's like my ex vanished off the face of the earth. He broke his promises and walked away so coldly.

I won't read 'The Lucky One'.

I couldn't care less about 'Sideways' or 'Thelma'.

I'm sick of restrictive measures. They erode even the most resilent of individuals.

'Channel 4 News' Quotes:
"Reduced to hermit status."

"Normality. Or a degree of it."

"Create horror."

"Sword of the law."

"Lefty plot."

"The common interest."

"Common social and moral purpose."

'The Simpsons' Quote:
"Bang on this pot to scare the possums away."

'The Irish Times' Quotes:
"Enforced isolation."

"Binary ethical debate."

"Externally imposed pressure."

"Legislation by moral panic."

"Level of boredom is increasing."

"Profoundly unsettling new reality."

"Catastrophic impact."

"Live for the rest of my life wondering."

"Not afforded this respect."

"It's really just you, isn't it?"

"Tries to persuade her subsequently that she was hallucinating on the blood-pressure meds."

"The Easter egg hunt was pure focking terrifying. The three of them went through the gorden like shorks scenting chump."

"When you threaten to upset the status quo, every cliche in the book gets thrown at you-"

"The hetro-patriarchal-capitalist-imperialist system."

"You have been absorbing his explicit and implicit messaging that he is better than you, that you don't deserve to be treated well, that love and relationships involve shrinking yourself down to nothing, accepting every ounce of mistreatment, and hoping that one day the person you love will start acting like they love you back. He will never love you back."

"Doesn't want to love anyone."

"Makes you believe that staying and being shattered by a person every day is somehow better than leaving."

"Never fully convinced by the idea of society in the first place."

"Preparing for their fantasies."

"Their concern for the future of humanity is a gloss over base selfishness."

"From any obligation to materially contribute to society."

"Committed to life after the comforts of civilisation."

"Closest thing to the end of the world what we have on Earth."

"Need to master what is felt to be uncontrollable."

"Paranoid reading."

"Striving to be "good" as goodness is currently perceived."

"Presence of absence."

"Descends into a psychosis in which murder becomes not only the logical answer to her best friend's troubles, but an entirely reasonable method of ensuring that Jane and Marnie remain best friends forever."

"Objecting to the music because it was ridiculous."

"Civilisation is only an earth tremor away from collapse."

"Comes from a generation that believes a man has the right to treat his wife as his personal chattel and his actions never affect her love for him,"

"Increasingly repulsed by unnecessary queues, interactions with strangers, and touching anything."

"Scowled at me in the street."

'Faking It: Tears Of A Crime' Quotes:
"Had everything. Except self control."

"Two people there. One walks out."

"Lose his status."

'Waking The Dead' Quote:
"A corpse that's been rotting in a tunnel."

'BBC News' Quotes:
"Haven't stopped existing."

"Sound benevolent."

"Time critical."

'HowToSpendIt' Quotes:
""Streetwear" mean "The wrong kind of street"."

"Largely cheerless."

"It has a reason to exist."

"Violently opposing."

'FTWeekend' Quotes:
"A reality show about customised dog houses, called Barkitecture."

"Eternal glory."

"Seek fame at any cost."

"Darker realities."

"Always insisting on his goodness and humanity."

"Life, squandered on a morally bankrupt husband, a depraved regime and a lethal ideology."

"Perverse allegiance to a father who he barely knew and did not love."

"Attracted so little attention – and deliberately so."

"Faith remains unshakeable."

"Evade deeply inconvenient truths."

"Lure punters."

"Less feted."

"Isolated and rejected by her peers."

"Seemed to be important and treated with profound respect."

"Stay in her place and feed on men's fear: that one day their wives might turn against them."

"No door in London was closed to them,"

"Swing between despondency and ire."

"Plently to rile him."

"Socially inept."

"Rate their own lives as failures,"

"Be very low-tech in its tastes."

"Had no cars and no way of leaving."

"Unable or unwilling to leave."

"Managing the fallout of a high-impact respiratory pathogen."

"Brief and justifiable alarm."

"Inaction in the face of danger."

"Negative panic."

"Celebrities having better lives than you,"

'Dateline' Quotes:
"A no account."

"Got a bad vibe from."

"Her story was ridiclious."

'Sky News' Quotes:
"Dead were being shut in a shed."

"Worried on so many levels."

'48 Hours' Quotes:
"No one would listen to me."

"Need somebody to listen."

"Restraining order crazy."

'Docile' Quotes:
"You don't want to be too aware of what's happening. Trust me."

"I've behaved the way he likes; what more does he want."

'A Midsummer Night's Dream' Quotes:
"Repent the tedious minutes with her."

"You are unkind to me."

'The Sunday Times' Quotes:
"Accustomed to people abandoning her."

"Attract derison."

"Unprecedented ferocity."

"Solicitous advice."

"Mercifully defend you."

"Domestical matters,"

"Potent and infectious fevers."

"Precocious even by the standards of such places."

"Discussing the imperatives of historical dialecticism."

"Lunatic precision."

"Squint at the grandeur!"

"Delusional vanities."

"The grown-up world has been a terrible letdown."

"Build attachment and trust."

"Treated as partially responsible for their own murders."

"Blood-chilling suspicion."

"Unnerving portents."

"Shiver of history and consequence."

"I can't afford compassion."

"Poor life choices."

"Rampant infectivity."

"Epochal crisis."

"A pretty terrible person."

"Shout at the engineer."

"One particularly unpleasant neighbour."

"Hideous product."

"Every dark thing it had to offer."

"Ridiculing me and anything I showed interest in."

'Stacey Dooley: Locked Up With The Lifers' Quotes:
"Carjacking type of situation."

"You mind's not right."

"Made her mistakes."

"Horrible mistakes."

"Relationship driven."

"Quite hostile."

"Jump her in the bathroom."

'A.P. Bio' uotes:
"Hell town."

"Incessant happy talk."

"You might be the worst person I've ever met."

"The wasps have overtaken the band room again."

"Nobody's going to be looking at you anyway."

"My father's whore lives there. She's a rich whore."

"My wife Brenda lets me out 1 night a month."

"Like in every 80s movie."

"Crying ritual."

"My naughty drawer."

"Sexy trash."

"The novel 'Dune', all guys like that."

"Stupid hippy."

"Burrowing into my brain."

"You'd be lucky to have someone stalking you."

"Who kidnaps a nun?"

"Yelp and gasp too much."

"I am intrigued by the whole ass destruciton."

"Rub this deer urine on you! It'll throw off the hounds!"

"I don't want your clams man!"

"We're bad kids."

"Makes people go to jail."

"Doing some emotional eating."

"Pulled from the cleaner parts of Lake Eerie."

"Take this quilt, it is a map to Ontario!"

"I will distract them with bird calls!"